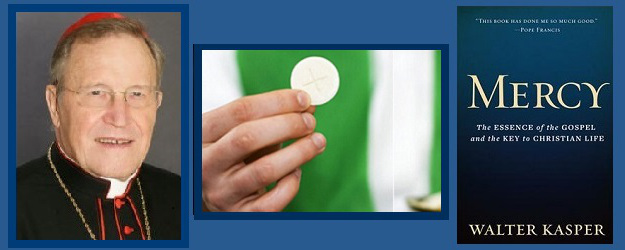 The Merciful Call to Holiness | Thomas Gourlay | HPR

Addressing the Dualism Between Mercy and Doctrine in Cardinal Kasper's Proposal

Ever since it was first floated in his 1977 work, Cardinal Walter Kasper's proposal to apply mercy to those suffering outside full communion with the Church through civil divorce and remarriage has been the source of much debate.1 This argument has gained recent attention through Kasper's re-proposal of this same idea which he put forward in the lead up to the extraordinary synod on the family which was held during October of 2014. Published as a book soon after its delivery, his address to the Consistory of Cardinals in February of 2014 restated his 1977 proposal to allow civilly divorced and remarried Catholic couples in some particularly and seemingly impossible situations back to the sacraments after a period of penance.2 In the lead up to, and in the media coverage which accompanied the synod, much was made of the proposal, and the perceived change in Church doctrine which would ensue should such proposals be adopted by the synod fathers and promulgated by the Pope.
Without wading too deeply into these highly polemical waters, constructing arguments from Canon Law, or from the Sacramentality of Marriage, this essay seeks to penetrate more deeply into the understanding of mercy which animates Cardinal Kasper's proposal. It will argue that Kasper's proposal inherently constructs a dualism between the unfathomable mercy of God, and the universal call of Christ to holiness that is, to "be perfect as your father in heaven is perfect" (Mt 5:48).
Kasper's Presentation of Mercy
In his book Mercy: The Essence of the Gospel and the Key to Christian Life, Kasper argues that mercy is a crucially relevant, but a tragically forgotten topic in Catholic dogmatic theology.3 While he does give some credence to the development of the theme of mercy in the work of Popes John Paul II and Benedict XVI, he does little more than give a passing reference to their teaching in this area before going to great lengths to show that, with the exception of the theologian Matthias Sheeben, the theme of mercy is glaringly absent from most manuals of theology.4 This apparent glossing over of the developments of the theme of mercy in the work of both John Paul II and in Benedict XVI will have ramifications which will be pointed out at a later point in this paper.
According to Kasper: "The failure of theological reflection concerning the message of mercy, which is central to the Bible, has allowed this concept often to be downgraded, degenerating into a "soft" spirituality or a vapid pastoral concern, lacking clear definition, and forced somehow to suit each individual."5 Few would argue against his assertion that there is a pressing need to enshrine a correct notion of mercy into the teaching of the Church, and into popular Christian piety. Kasper is keen to position his proposal concerning the pastoral care of civilly divorced and remarried individuals within that framework of a true mercy.
Critiquing a Strictly Metaphysical Doctrine of God
In his book, Kasper presents a much-needed critique of the traditional metaphysical doctrine of God. He argues that the strong metaphysical doctrine of God, which was used particularly by neoscholastic philosophers to defend belief in the enlightenment and post-enlightenment era, in fact presented a harsh and unfeeling god, quite dissimilar from the God of the Scriptures.