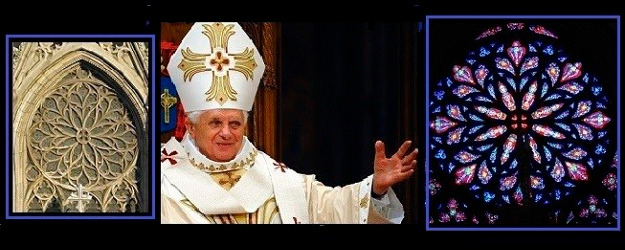 Pope Benedict XVI's Theology of Beauty and the New Evangelization | Dr. Matthew Ramage | Homiletic & Pastoral Review
"I have often affirmed my conviction that the true apology of Christian faith, the most convincing demonstration of its truth…are the saints and the beauty that the faith has generated."1 Throughout his career, Joseph Ratzinger/Benedict XVI has, time and again, emphasized that the via pulchritudinis, the way of beauty, constitutes a privileged path by which to advance the New Evangelization. In a de-Christianized society that is often hostile to the Church's truth claims and moral norms, Benedict believes that recourse to the universal language of beauty is indispensable if today's evangelist is to compellingly present the Gospel to would-be believers. In this brief reflection, we will explore the concept of beauty in Benedict's theology and suggest areas in which it might be fruitfully applied by the Church today in her ministry of evangelization.
The nature of beauty and its power to convert
It is commonly said that "beauty lies in the eye of the beholder." There is certainly some truth to this saying. When it comes to some matters (say, whether you like a particular song or movie), there is considerable room for debate among people of good will as to whether a given work of art should be called "beautiful." Yet, to relegate beauty solely to the realm of the subjective gives rise to grave problems when pushed to its logical conclusion. This can be seen by the fact that there exist certain realities that any sane person would recognize as not beautiful. For an extremely obvious example, take the carnage of Auschwitz—not the acts of heroism by those imprisoned, but the brutal acts of aggression perpetrated upon them. If one is to call that beautiful, then one has clearly emptied the word "beauty" of all meaning.
So what is beauty? As we will discover below, Pope Benedict provides us with something different from a textbook definition of beauty. But for now, a good starting point is St. Thomas Aquinas whose thought mirrors a large part of the reflection on the subject. Within this tradition, beauty is described as having three hallmarks: integrity, proportion, and clarity, or luminosity. A piece of art possesses integrity when it is whole (a painting is not ripped in half); proportion occurs when a thing's various parts are all in proper relation with one another (the painting has not been drawn with twig-like limbs); clarity is that "shine" that allows for the self-revelation of the beautiful (a painting could possess integrity and proportion but lack adequate light).
For his part, Benedict draws on Plato to give us more of a phenomenological account describing the experience of beauty, rather than seeking to define its precise nature. He teaches us that the dominant effect of beauty is to give us a healthy "shock" that draws us out of ourselves, and the rut in which we sometimes find ourselves entrenched throughout our daily routine.