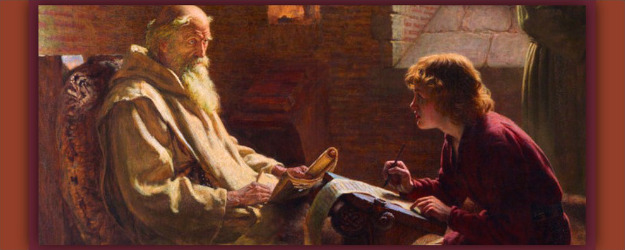 The Venerable Bede Translates John, by J.D. Penrose (ca. 1902).
Liturgy in Bede's World | Daniel J. Heisey, OSB | Homiletic & Pastoral Review
Time-honored ritual; a space often ornate, if not opulent, used almost exclusively for this purpose; seating by hierarchy; candles; a prayer, perhaps in Latin, perhaps in English; ceremonial robes; a bevy of trained servers; wine; elegant, and often antique, silver and crystal; an oration, at times stilted or soporific: a recurring event all solemnly choreographed and brought to a formulaic close. By the end of the hour or two, a few may be bored, and some wonder again, "All this archaic rigmarole, so pompous and contrived and expensive, while people are starving and living in rags and hovels: would this money not be best spent on the poor?" I refer, of course, to the phenomenon known as Formal Hall.
It is an anthropological fact: Humans need ritual and ceremony. Whether a formal dinner at an Oxbridge college, a wedding, a funeral, a graduation exercise, a sporting event, an inauguration, a coronation, or people regularly gathered for worship in a church or chapel—human public life requires ritual. Likewise, human private life also has its rituals, from one's daily morning ablutions, to how one weekly goes about cleaning the house or tidying up the garden. It is in the nature of ritual, just as it is in human nature, which never changes, to draw upon established practice and precedent, and to change slowly and with rare innovation. Within a religious context, that human instinct for ritual is called liturgy.
For that anthropological need, as well as for abiding human religiosity, one finds archaeological evidence, ranging from Neanderthal burials to the Staffordshire Hoard.1 Within the latter, seventh-century Anglo-Saxon treasures discovered in 2009, one finds a pectoral cross and what is either part of a processional cross or a cross for on top of an altar. The pectoral cross could have been worn either by a bishop or an abbot or an abbess, and the other cross, if a processional cross, would have been used during major liturgical events, carried usually by a boy from a parish or by a novice monk or nun at the front of a liturgical procession. That sort of procession was led by the most junior person present, here symbolized by a boy or a novice, and from there the church hierarchy was represented in ascending scale, so that, at the end came an abbot, an abbess, or a bishop.
To turn from archaeological finds to literary texts, one encounters just such a procession in Section 17 of Bede's Historia abbatum, his account of the abbots of his monastery of Wearmouth-Jarrow.