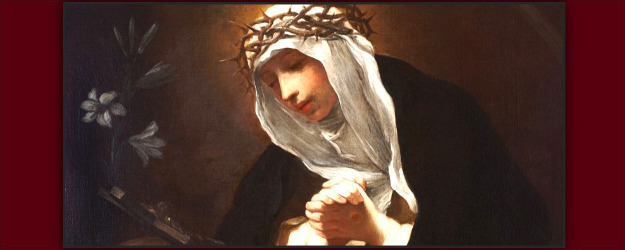 St. Catherine of Siena, by Baldassare Franceschini (17th century).
To Listen to the Voice of God | Brent Withers | Homiletic & Pastoral Review
We all have a desire to be listened to and taken seriously. There is nothing more frustrating than not being listened to, when someone does not either look at us when we talk to him, or let us finish our sentences. It leaves us feeling unsatisfied and frustrated, and we feel we have not had our point of view heard or considered. One of the consequences of not being listened to is that we will not be understood. If someone does not listen to what we have to say in relation to everyday mundane issues, from ordering something over the telephone, to more serious personal issues, then the issues will remain unresolved. The world is full of daily misunderstandings because, in the majority of instances, people do not listen to what the other person is saying. If they do listen and hear what the other person is saying, it may be interpreted incorrectly. It is easy to hear what we want to hear, and then to selectively ignore what does not fit in with our worldview or personal preference. The desire to be listened to, taken seriously, and understood is innate to us all. It is a universal desire, and it is also what God desires. He has placed his own desire in our hearts so that it can be fulfilled. We are only really able to hear what our neighbor says with the help of God's grace, which frees us from the chains of sin. Sin clutters our heart and muffles our hearing so that we cannot hear what others say clearly, tainted with our own opinions, desires, and attitudes.
One fruit of listening to our neighbors is following their advice when they have told us our shortcomings and failings. We can then ask for the help we need to overcome these faults and make positive changes in our life. It is the same with God; he wants us to listen to his voice which mysteriously reveals to us our imperfections and weaknesses. He also inspires us to seek, and ask for his help. God's greatest desire is that we let him become more, and we become less. "He must grow greater, I must grow less" (Jn 3:30).
God desires that we hear his voice above the din of everyday life. We can only begin to do this when we invite him to become the center of our lives through daily prayer. He will speak to us through his revealed word in the Gospels, through our conscience, the inspirations that flood our mind with holy thoughts, and the recurring desires that he places in our heart. We can also sometimes hear the voice of God through our neighbor, who advises us of our faults and imperfections.