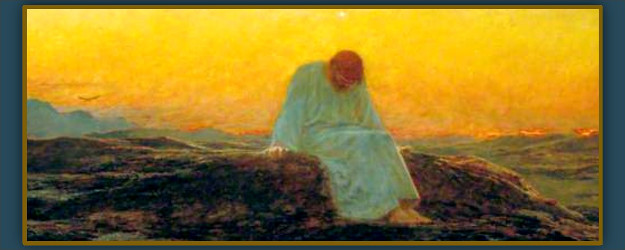 The Temptation in the Wilderness, by Briton Riviere (1898).
Sacrifice, Substitution, and Suffering | Dusty Gates | Homiletic & Pastoral Review
Sacrifice is troublesome for us fallen humans. It is not only the inconvenience or effort that troubles us so much, because we are sometimes willing to be inconvenienced or troubled for good reason; that is, a reason that serves our own agenda in some way. The need to sacrifice may become palatable when it can be connected with some form of personal advancement or gratification. The most difficult part of truly understanding sacrifice, in a religious sense, comes from our unwillingness to admit that we owe anything to anyone other than ourselves. We are consistently taught by our society, in all places, from kindergarten to Madison Avenue, that our purpose in life is to achieve, become, and grasp at whatever makes us feel best about ourselves. Adam and Eve, even without public school or mass media, found themselves unable to resist the temptation to do some grasping themselves, looking for something more, and novel, even while in the midst of paradise. The understanding that they owed something to God and were called to return the gifts he had given them, though built into their very nature, was found to be less than compelling or binding in the end.
Sacrifice requires a willingness and ability to prioritize our lives: to rank our obligations and to properly order our desires. To sacrifice a "thing" for something else, whatever the sacrifice itself, or its purpose, may be, is to say that the purpose supersedes the object. To sacrifice something, specifically to a higher power, is to say, "this thing is less important to me than you." For this reason, it is easy to see the natural place of sacrifice in the cult of religion as an antidote to our concupiscence and selfishness. In the context of biblical religion, animal sacrifice (such as the sacrifice demanded by God from Abram to initiate the Genesis 15 covenant) has the additional significance of the shedding of lifeblood—signifying the participant's agreement to have the same thing happen to him if he is unfaithful to the covenant. It was, for the people Israel in the Old Covenant, a regular reminder of the grave implications of their chosen status.
God's prescription for sacrifices is taken up a notch when we get to Moses and the Exodus.