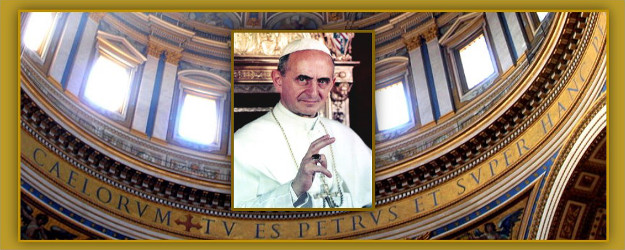 Recognizing a Link in the Hermeneutic of Continuity |  Fr. Matthew J. Albright | Homiletic & Pastoral Review
Paul VI was no more the pope the "leftists" anticipated, than Jesus was the Messiah the Zealots expected.
The ranks of those declared blessed and saint by the Church under the guidance of the Holy Spirit constitute the great array of our brothers and sisters who have been lifted up as models of holiness and powerful intercessors. While blessedness and sainthood do not mean perfection in every area of life, those declared so by the Church are truly worthy of our admiration, and their commitment to Christ is to be imitated.
The beatification of Pope Paul VI on October 19, 2014, at the conclusion of the extraordinary synod on the family, indicates that the Holy Spirit has affirmed the holiness and exemplary virtue of Giovanni Montini through the occurrence of a miracle. While mortal and human, therefore prone to weakness, like the rest of us, Montini was a man utterly devoted to the Lord and the Church. While interpreted through more political lenses than most of us whose lives go relatively unnoticed, he held fast to the core of Catholicism. While attempts were made to hijack his papacy in support of everything from liturgical minimalism to Marxist Communism, he provided the essential link in Pope Benedict's hermeneutic of continuity between the opening of the doors to fresh air by Pope Saint John XXIII and the fulfilment of the Vatican II vision in the legacy of Pope Saint John Paul II, and beyond. Having canonized these two popes, Pope Francis now paves the way for the same honor to be bestowed upon Paul VI, who, despite facing personal weakness and a maelstrom of ecclesiastical and societal conflicts, held the Barque of Peter steady through the tumultuous post-conciliar waters.
Authors in the years after the Council shed light on the life and times of Pope Paul VI, permitting today's generation of Catholics to understand a significant era of the Catholic Church which they did not personally experience, and the factors that contributed to the Church as she is today. As early as October 1963, a mere four months after being elected as pope, his papacy was perceived as a riddle amidst various political machinations. Alice-Leone Moats reported in National Review that L'Unita, the magazine of the Italian Communist Party, "joyfully hailed the elevation to the throne of St. Peter 'the workingman's archbishop,' 'the man who typifies the progressive group of the Roman Catholic Church,'" only to lament "four days later" that "the election of Montini represents the contrary of that 'revolutionary' or, at least, 'exceptional' choice which alone could have satisfied the public."1 Paul VI was no more the pope the "leftists" anticipated, than Jesus was the Messiah the Zealots expected. There was to be no "revolution." Thanks be to God that neither the mission of the Church nor that of the papacy is to "satisfy the public."
Disappointed that he was not what they hoped for, Moats continues, "the Communists" and "assorted left-wingers" "continue to hope that they were right when they thought that Montini was their man or, at any rate, that by means of flattery, threats, propaganda, misrepresentation, they can turn him into their man."2