Ann Carey, author of Sisters in Crisis: Revisited | From Unraveling to Reform and Renewal (Ignatius Press, 2013), answers questions from Matt C. Abbott of Renew America:
1. What inspired you to write Sisters in Crisis?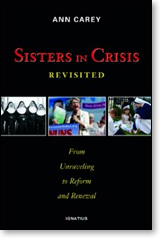 Ann Carey: I always had an interest in sisters, for they had been my teachers from kindergarten through college. I was writing for Our Sunday Visitor in 1992 when I was asked to write an article about the Vatican approval of a second superiors' conference for U.S. women religious – the Council of Major Superiors of Women Religious. U.S. women religious already had a superiors' conference – the Leadership Conference of Women Religious (LCWR). That was the first time the Vatican had ever recognized more than one superiors' conference in the same country, so I wondered why this happened.

In researching the article I found that two different visions of religious life had evolved among sisters since the close of Vatican II in 1965. Thus, the Vatican erected the second superiors' conference to accommodate the sisters who were living the Church's classic model of religious life and did not embrace the evolving vision of a diverse religious life espoused by the LCWR.

I became very interested in why sisters had taken these two very different paths of renewal, and I realized this was an important story that had never been told completely. I live near the University of Notre Dame, where the archives of many organizations of women religious are deposited, so I had rich archival resources available for researching a book. The first edition was published in 1997, and the second, updated edition in 2013.

2. What role, if any, did the Second Vatican Council play in this crisis of faith and leadership?
Continue reading the interview on the RenewAmerica.com site.