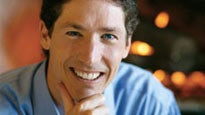 ... that I bet won't appear anywhere in Joel Osteen's new book, Become a Better You: 7 Keys to Improving Your Life, due out on October 15th:
Jesus, sin, salvation, hell, Cross, Satan, and the Final Judgment.
That's just a guess, since I've yet to receive my review copy (hey, I can always dream, can't I?). The book will have a first printing of three million (ht: Amy Welborn), one for every time Joel has mentioned his late father's feed store.
Amy Welborn has a keen idea:
We should have a contest. No, not between the Pope and Osteen's book sales. The contest should be: write Joel Osteen's book - predict the 7 keys to improving your life. I'm thinking we'd have a lot of winners. As in...does anyone actually think they'll be surprised by the content of this book?
At risk of redundance, I'd say the seven keys for Joel improving his life were as follows:
1. Don't talk about Jesus. Too controversial.
2. Avoid any mention of sin. Too depressing.
3. Never admit the need for salvation. Too humbling.
4. Never, ever talk about the hot spot. Too frightening.
5. Don't take up your cross. Don't refer to the cross. Too negative.
6. Never discuss Satan. Too scary.
7. Recognize there is no need for the Final Judgment. Replace with story about father and the feed store.
Read seven more of my positive thoughts about Osteen in this July 2005 post.