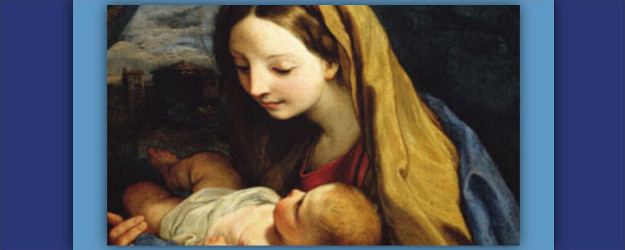 Madonna with Child, Carlo Maratta, c. 1660.
A Silence about Mary | Fr. Charles Kestermeier, SJ | Homiletic & Pastoral Review
Mary is very central to the Gospel's infancy narratives, but after Cana she almost disappears: we see her in the "Who are my mother and my brothers and my sisters?" passage, at the foot of the cross, and as being present at the Pentecost event, but after that, nothing. Why does Scripture progressively ignore her in this manner, and what are we to make of it?
The first time we meet Mary, Luke describes her as "filled with grace," and I think it is possible that we do not take that description in a sufficiently strong sense, at least in terms of her lifetime as a whole: the Annunciation is a moment when the Holy Spirit changes her life completely and in a most profound physical sense, but what would her prayer life have been before and after this visit? I don't think that we could classify her as a mystic—I doubt that she fits any such categories—and yet, she had to be in some sort of constant awareness of God, living in some sort of profound presence to him, at the very least, after this event, and, almost certainly, before it. To judge from the Magnificat, she was clearly filled with at least the scriptural presence of God in the best possible way, but how does she change afterwards?
The infancy narratives give us some idea of who she is as a young mother, at least from the outside. After that, just about anything we might say about her would be pretty much all speculation—but let me offer some ideas anyway.
In the episode of Jesus discussing with the doctors in the Temple, when he is supposedly "lost" there (Lk 2:41-50), note Mary's expectation that, even at that age, Jesus would still act like a son and would have at least mentioned to her and Joseph that he was leaving home. At this point, the Perfect Man is acting like a perfect teenager; he still needs some polishing. And then, without any other recorded words from Mary or Joseph, we see Jesus simply return to Nazareth with them.
There he grows in "age, wisdom, and grace" until he is about 30, when he begins his mission and shows a completely different kind of awareness, knowledge, and wisdom than he did in the Temple (it is not easy to describe this new mindset in two words). He begins his real mission, not in the Temple with the doctors of the Law, but fairly far from that place in every sense of the word, far from all the activities and attitudes which that site implies, among the common people instead. He has indeed grown, humanly and spiritually, under the tutelage of Mary, and, for at least much of that time, Joseph. They were exactly what Jesus needed as parents.
The Gospel texts show Mary as present to Jesus only twice after that, before she appears at the foot of the cross.